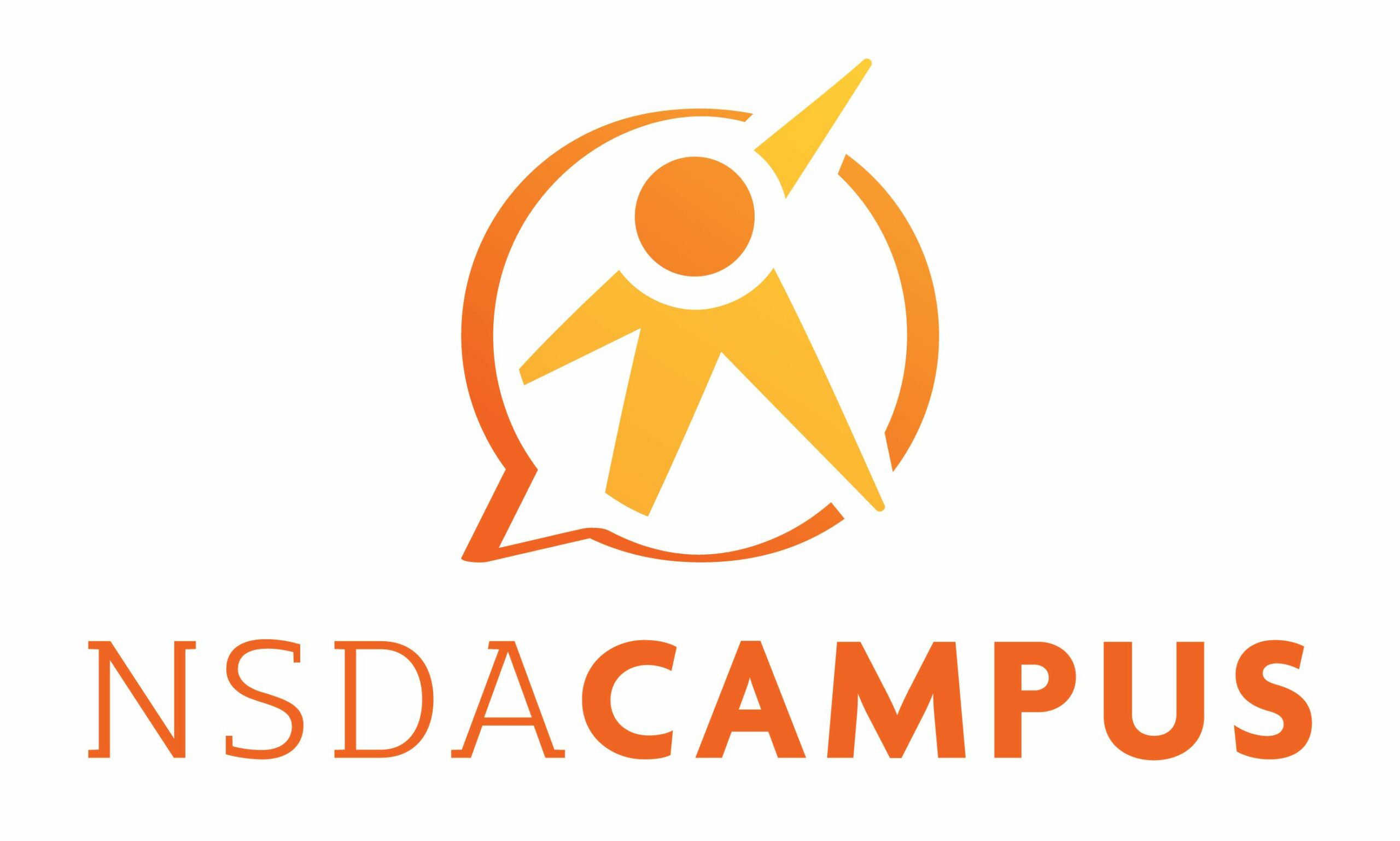 Are you exploring how to provide online speech and debate in a socially distanced environment? NSDA Campus is an online platform offering team practice space and tournament hosting space at a low cost. Please note, this is not the platform used for the 2020 National Tournament. After some early tournament testing, we believe this tool will meet the needs of many, though not all, tournament hosts this year. NDSA Campus sign up and competition takes place on both Tabroom.com and Speechwire.
Please take a moment to complete this short survey to give us advanced notice of your potential NSDA Campus usage! This survey is purely informational and in no way obligates you to use NSDA Campus for your tournament, nor does it request rooms for your tournament. Your responses will be used to help provide you the best service possible. If you have any questions, please email info@speechanddebate.org!
Preview Online Tournament Hosting
NSDA Campus offers a low cost and secure way to run an online competition that is integrated with Tabroom.com. NSDA Campus is an affordable option for tournaments that cannot meet in person due to school closures or capacity limitations, or tournaments that opt to go online to avoid travel and/or travel expenses. Although we will provide instructional materials, NSDA Campus will not have full-time dedicated support staff, and we will not be able to provide customization. NSDA Campus is available to members and non-members, but requires an adult representing an educational institution to purchase.
Preview Team Practice Space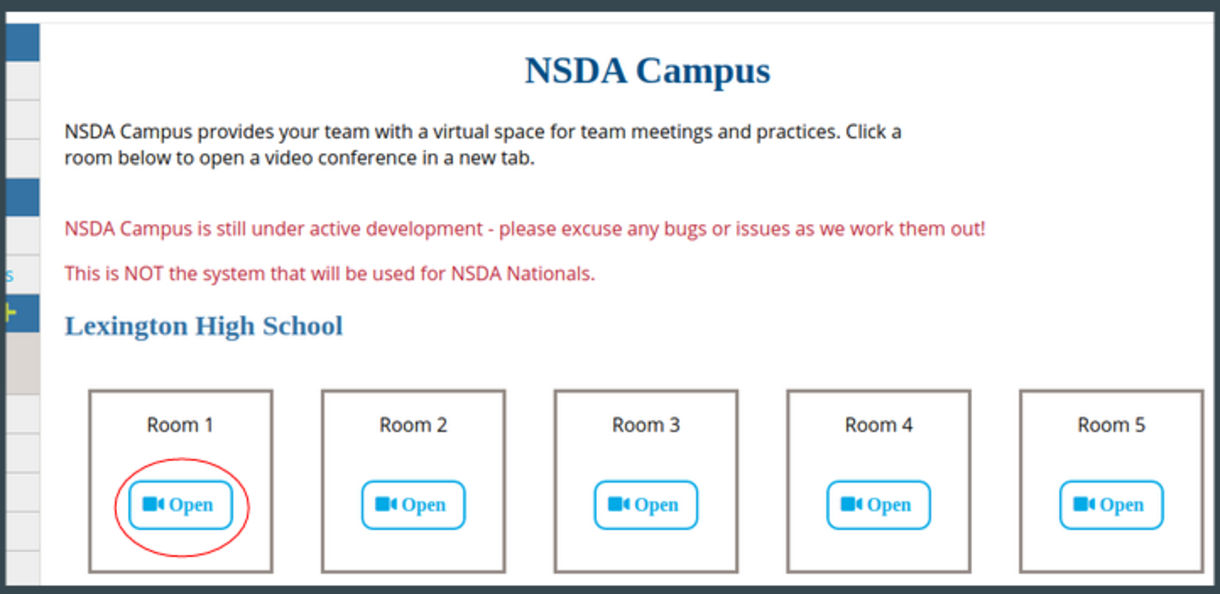 NSDA Campus offers free practice space for NSDA members, built into NSDA accounts. Current NSDA members can log in and experience the video conferencing portion of NSDA Campus now. NSDA Campus practice rooms are accessible via the left sidebar on the Account page.
What is NSDA Campus Webinar
If you're new to hosting online tournaments, check out our guide! Build on the experience of the team of staff and volunteers who brought you the 2020 online National Tournament as you formulate a plan for your online event. This guide contains tips, questions to consider, and our lessons learned from hosting online tournaments.
What technology do I need to use NSDA Campus?
Any device that accesses the internet and can use Google Chrome or a mobile app (iOS/Android). Depending on your event, you may also need access to a microphone or camera. 
Are there any limitations on use of NSDA Campus?
Because equity is a priority of our organization, we have created NSDA Campus with the goal of providing a platform for the hundreds of local tournaments that normally occur every weekend. We do not anticipate limiting the number of tournaments that can be held. To ensure that we can scale to serve as many tournaments as possible, we may need to consider limits on the size of individual tournaments. Furthermore, we will not be able to support customizations to the platform. 
What does it cost?
$6 per room per day. We are committed to keeping the pricing simple and as low as we can sustainably provide, which is why NSDA Campus is not customizable. There are no exceptions to the policy and no refunds or credits available for unused rooms.
How does my tournament sign up?
Any tournament hosted and run by an adult representing an educational institution can sign up for NSDA Campus rooms now for use after August 1, 2020. Tournament administrators will visit Tabroom.com to set up a tournament and make decisions regarding entries, rooms, and schedules. The NSDA Campus interface will be under Settings » Sites & Rooms » NSDA Campus.
A section on that page allows a tournament admin to "Purchase additional rooms" with a Quantity input. Users will select the total number of rooms needed for the tournament (each "room" is good for one day) and will have the opportunity to divide and assign the rooms as needed in the tournament set up after purchase. After filling in the quantity, click the button next to it that says "Go." That will load a purchase form with the important details filled in, and allow you to complete checkout.
Please note that tournament setup and room assignment can take place after an invoice is generated, but the rooms will not be activated until payment is received. The tournament must be created and paid for (a Purchase Order counts as payment) two business days before the tournament starts (e.g., a tournament beginning on Friday must be paid for by Wednesday; a tournament beginning Sunday must be paid for by Thursday). Rooms can be added after the original purchase up to that same time. There are no exceptions to the policy and no refunds or credits available for unused rooms.
Do I have to be an NSDA member to use NSDA Campus?
No, competition rooms available for the fall will be the same low cost for members and non-members. Practice rooms will be available exclusively for NSDA member schools for free through their account. Five practice rooms will be available this summer to maximize testing; each school will have at least one practice room next school year.
Is this secure?
Yes. There are several layers of security built in to the system to prevent things like "bombing," trolling, and other forms of unauthorized use. Because rooms are only accessible via a Tabroom.com or NSDA account, they will be very secure.
Does this use Zoom?
No. NSDA Campus is built using open source video conferencing software and does not use a commercial service like Zoom.
What features does NSDA Campus have?
Currently, NSDA Campus will have the basics you need to run a virtual speech and debate competition. This includes videoconferencing, chat, in-round file sharing, contact forms, hand raising, the ability to create general purpose tournament rooms, a meeting squad room for each participating school, access to online ballots via Tabroom.com, live streaming via an external application, and room access permissions aligned with Tabroom.com tournament permissions. NSDA Campus is a synchronous use platform. Tournaments wishing to use asynchronous video (as was done for speech events at the National Tournament) should reach out separately for availability and pricing of accessing that feature, which is hosted on a separate platform. We will not be able to support customizations to the platform or specific feature requests from individual tournaments.
What features does NSDA Campus not have?
Some features your tournament may need that are not currently part of NSDA Campus include event management and tournament setup support, event insurance, the ability to brand the space for your tournament, evidence sharing, automated Extemp draw, event recording, on-call technology and tournament administration support, the ability to control screen view at the tournament level (and therefore offer split-screen Duo), and breakout rooms.
While quality of a virtual room can and will vary based on many factors, in general, NSDA Campus can effectively support up to 15 users with video and audio per room. Larger room spaces needed at the tournament (for judge pooling, event staff, or tab rooms) may require tournament staff to set up and use an external room through a robust commercial video provider (like Zoom).
How do I learn how to use NSDA Campus?
Please review the provided Instructional Materials and webinar recordings linked above.
Tech support must be provided by the tournament. The NSDA will provide best practices for individuals in a tech support position at the tournament. The contact for this person must be provided as part of tournament setup.
To test run the system, any tournament on Tabroom.com can be designated as a "test" tournament. Rooms on a "test" tournament can be created to allow for testing with tab staff or other tournament officials. A tournament director can either set up a dedicated test tournament to try things out, or could set a real tournament into test mode temporarily for practice, then set it back live when ready to go.
Alternatively, tournament directors can also purchase a few extra rooms for the day before the tournament, which allows for the closest possible simulation of how rooms will work in their actual tournament environment.
Are observers able to access NSDA Campus rooms?
In order to keep costs low and provide a high quality experience for participants, NSDA Campus competition rooms will only be open to the participants and judges and not observers. Guidelines will be shared for tournaments wishing to to livestream rounds to make them available to a wider audience.
Can we use NSDA Campus with tournament management systems other than Tabroom.com?
NSDA Campus can be used on both Tabroom.com and Speechwire.com. If you have questions about using NSDA Campus on Speechwire.com please contact their support team via their website.
To whom do I send my questions about NSDA Campus?
Please contact info@speechanddebate.org if the answers to your questions are not located in this FAQ or in our online tournament resources (when available). Feedback on other high priority features is useful, but that information will be collected from users in post-tournament surveys. Please understand we are not accepting tournament customization requests or pricing adjustment requests at this time. Consider attending one of our webinar options listed above to learn more.
Can I donate to or sponsor NSDA Campus?
In order to best live our value of equity, our goal for NSDA Campus is to keep the cost per room as low as possible. We are actively looking for support to manage the cost of building out NSDA Campus, providing instructional materials, and otherwise supporting the venture to avoid passing costs on to tournaments. In order to keep the system as user friendly as possible, currently we will not be selling advertising on NSDA Campus. If you would like information on how to philanthropically support NSDA Campus or the NSDA, please reach out to nicole.wanzer-serrano@speechanddebate.org> or make a donation at www.speechanddebate.org/donate.
Is there a limit to people in each room/competition space?
It is recommended that no more than fifteen users be in a room at a time to ensure video and audio quality. The platform will not automatically limit the number of users in a room. If you feel you'll need rooms that hold more users, you may want to use a different platform for those events/gatherings.
How does the payment process work?
NSDA Campus Rooms purchases work like a store purchase. When you go to checkout after selecting the number of rooms you want to purchase, you have three options:
Pay by credit card. Rooms will be added to your tournament within 48 hours after your order is processed.

Indicate you are paying by P.O. and attach a P.O. Once finance verifies the P.O., we turn on access to the rooms.

Pay by check. Room will not be available until the check is received by finance

.
Can participants share evidence within this platform?
Participants can share evidence files directly from their Campus room. A user can drag a word/pdf file on to the page, and it will be immediately available for download by everyone else in the room. No emails necessary!
What do I need to tell my IT department to ensure I can access NSDA Campus from school?
What if NSDA Campus has glitches during my tournament?
NSDA Campus has successfully run dozens of tournaments with no technical problems. However, no system is perfect, and NSDA Campus has dealt with some minor glitches while rapidly scaling up the system. While the system is becoming more stable every day as we learn from experience, it is always possible bugs or other issues could arise. Fortunately, the NSDA has a robust set of backup plans in the event of any issues. These plans allow us to quickly overcome even a large scale Campus outage to get your tournament back on track. For more details about how to handle an issue that arises during your tournament, or for any questions about the stability of the platform, please check our training materials or contact us directly.
Why should I choose NSDA Campus for my virtual tournament?
"Campus is what is making my program happen this year. Absent campus, I don't think we would be allowed to compete. The security features (only known users allowed in the room) have given my admin the confidence that participating will not violate privacy standards."
"Thanks for keeping virtual options affordable!"
"THANK YOU for creating this, it would be so awful and confusing to run a tournament that wasn't completely integrated into tabroom. THANK YOU THANK YOU!!!!"
"This platform is AMAZING! Especially for the price, you did a great job."
"Great job with this resource. It has been invaluable so far in ensuring quality access to virtual debate."
"I know you all are working tirelessly to keep debate opportunities alive in an online environment and I personally appreciate all the effort."
"Thank you for all the work you are doing for the community to keep us competing despite not being able to compete in-person! I and my students are SO appreciative for your service!"
Where can I provide feedback about my user experience?